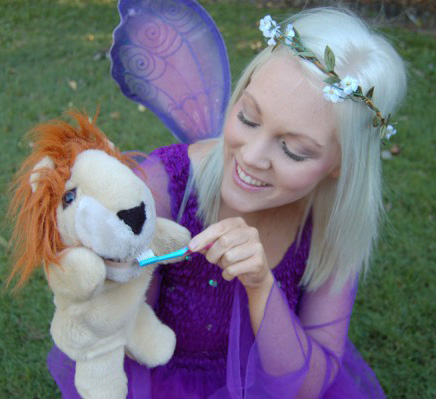 Emily grew up immersed in the world of teeth as the daughter of a dentist. She started her own working life in the world of entertainment, singing with Opera Queensland at the Lyric Theatre from the age of 12. She holds a Certificate IV in Dental Assisting Oral Health Promotion and also studied childcare in England and qualified with an NVQ Level 2&3 Diploma in Early Years Care & Education. Emily holds a Cert 3 in fitness ( gym instructor) and a Cert 4 in fitness (Personal trainer, Older Adults & Children trainer). Emily holds a current blue card and is trained in first aid and CPR.
Emily has a passion for seeing the next generation raised as healthy, active and happy children.
In 2009, combining her skills, training and passion Emily discovered the perfect job for her, she was born to be the Toothfairy!
The Toothfairy Show now delights and educates children across Australia including Northern NSW, Cairns, Mackay, Rockhampton, Adelaide, Canberra and of course nearer home in South East Queensland.
With the voice of an angel and her fairy wand Emily captivates and enchants her young audiences. The Toothfairy holds the attention of even the youngest child whilst they effortlessly assimilate this vital message of dental health, which is backed up by professionally endorsed dental knowledge and practice.
EXCITING NEW SHOW!
Totally Teeth – The Game Show is an Oral Health and Hygiene and Nutritional program. Our mission is to provide high quality education in preventative dental health strategies through interaction and engagement in an entertaining game show format. Totally Teeth's key objective is to provide support to educators, parents, carers and the broader community with the ultimate outcome of improving the health of the Australian population.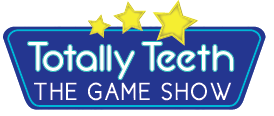 Drop Us A Line
[contact-form-7 id="10″]